In the previous posts, I was discussing hormonal causes of cellulite. And as a follow-up, I would like to suggest you effective cellulite workout that helps to reduce the appearance of this unpleasant condition as well as tone your muscles.
In fact, one of the reasons behind cellulite is the lack of muscle mass. Fat that is sitting on weak muscle tissue, gives your skin this lumpy texture. Thus, firming the muscle underneath the skin is a proven way to make orange-peel skin less prominent.
Unfortunately, it's difficult to get rid of cellulite quickly and completely. But by incorporating proper exercise, nutrition, improving circulation and controlling the fat-storage hormones that are more prevalent in the lower body, you can achieve amazing results.
I recommend starting with healing your hormones and adding more leg workouts to your routine. And in this article, I'll share what workouts are considered to be the best for fighting cellulite.
What to do to reduce cellulite?
First of all, you want to consider adding more cardio if you are overweight. It's important to start losing weight and reduce your overall body fat, which makes cellulite harder to notice. Besides that, cardio should be a part of your cellulite workouts because it makes you sweat a lot and eliminate toxins that your body stores. You may also want to check my post "How to burn fat fast" for more ideas.
Second, you need to focus on exercises that tone your legs. The most effective way to beat cellulite is to improve blood circulation in this area. So hitting the lower body hard with high reps of moderately heavy strength moves is a good strategy.
Best anti-cellulite workouts
Running (interval or regular) is probably the best exercise for legs, even better than cycling and swimming and more effective than static exercises. The reason for this is that the constant impact with the ground provides whole-body vibration which boosts skin firmness, and that's what we need. If you can't run, then choose walking for weight loss which is also very effective.
Just remember to use a pair of good trainers and run on grass or on the treadmill, never on concrete, in order to minimize the impact. Running on concrete is criminal and the source of many a sports injury. Running on a dirt road is a decent compromise, but the grass is always better.
Interval training can be used as an anti-cellulite workout as well. It may include running together with other exercises like spinning, uphill walking, elliptical training etc. HIIT (High-Intensity Interval Training) that focuses on legs is also an amazing way to tone and lean your lower body. And the main advantage of HIIT – it only takes 15-20 minutes so you don't have any excuses to try it. Check the post with the Best Tabata Workouts on YouTube.
What's more, interval training helps you burn more calories and boosts your metabolism way more than steady speed training of the same duration. So it may be considered as one of the best exercises for cellulite.
Stair climbing is also amazing as it works out all the muscle areas of your legs that tend to get hit with the greatest amounts of cellulite.

Strength training, especially when combined with diet and cardio, can help to burn extra fat and build muscles, which in turn erase most of those dimples on your skin. Plus, those workouts will boost your metabolism.
One of the best anti-cellulite exercises is lunges. You want to use different variations like front lunges, reverse lunges and side lunges to target your thighs from every angle. There is also a Clockwork Lunge exercise that combines all of them. This compound movement is great for building lean muscles, tone your legs and improve blood circulation in this area.
Leg lifts/raises are amazing exercises to do for toning the outer thighs where we usually store the most of cellulite. You can do them with just your body weight, or add an ankle weight or resistance band to increase the challenge. I've noticed much difference from the side-lying leg lift. It targets the area where I'm prone to have saddlebags, so it's beneficial to train this part more often.
Squats and other compound leg moves (like deadlifts, glute bridge etc) can be really beneficial as well. If performed consistently, they will build muscle in your thighs and butt, which will help to tighten legs and burn fat. Such complex movements are great because they boost metabolism so you continue burning more calories even in a rest state.
Swimming is one of the best aerobic exercises since you'll work out every major muscle group in the body. If you have knee or other joint problems you can try swimming instead of running and jumping. Actually, swimming is a better way to improve unwanted cellulite because water creates pressure that acts as a massage for your body. It may assist in reducing edema and swelling.
There are many pool classes at the moment that include different cardio and strength exercises. Usually, they last from 30 to 60 minutes. Such workouts improve circulation in cellulite-prone areas and, therefore, reduce the appearance of lumpiness.
Another great thing about swimming is that it is incredibly pleasant and therapeutic for your nervous system.
Try and get into the pool for 30 minutes, at least three times a week. Just half of an hour of swimming can burn at least 400 calories while strengthening your legs and arms. So if you love water and have an opportunity to swim, definitely go for it!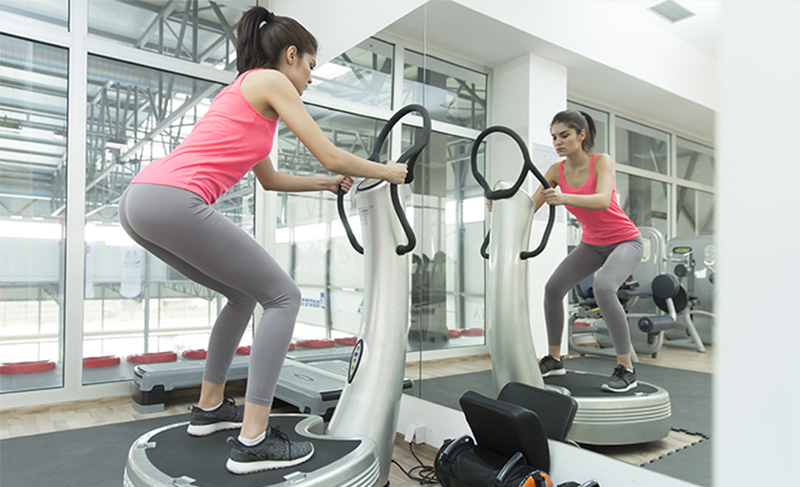 Note: This post may contain affiliate links. I may receive a small commission at no extra cost to you if you make a purchase through my affiliate link. I would appreciate that as it really supports my blog. Read my full disclosure policy here.
Vibration/power plate for cellulite. Body vibration is the most important cue for collagen and elastin production for your skin and blood vessel cells, so it is no wonder that vibration plate training is the ultimate skin firming / circulation-boosting exercise. It is even better than running and swimming. Plus, you can use it at home at any time – no need to commute!
By using these machines, you can perform a great variety of exercises such as squats, lunges, hip thrust, leg lifts and many more. And the vibration of the machine will massage your legs and improve blood circulation. Researches show that these vibration workouts can make your legs slimmer and more toned.
There are many power plate brands out there, from portable and budget-friendly like this one, to more advanced and functional like this one. They are all high-rated so if you decide to purchase one for your anti-cellulite training, make sure to check them out.
YouTube Anti-Cellulite Workouts

And I just wanted to share with you these two handy at-home video workouts that will tone your legs and boost circulation.
I hope all these recommendations and anti-cellulite workout ideas will help you to get in shape and improve the appearance of your legs.
Please share this post with your friends using social media links below.
xoxo,
Jane