In this post, you'll find a collection of delicious weight loss breakfast recipes under 300 calories. These are all healthy meals which you can enjoy without any guild. They are perfect for weight loss – healthy, nutritional and easy to make.
1
Chicken quesadilla
Note: This post may contain affiliate links. I may receive a small commission at no extra cost to you if you make a purchase through my affiliate link. I would appreciate that as it really supports my blog. Read my full disclosure policy here.
A warm crispy quesadilla is a great option for weight loss breakfast! It's a cozy meal that is very simple yet delicious. This recipe contains chicken, colourful bell peppers and, of course, cheese. The author bakes them in the oven, but I usually prefer to cook them on a dry pan to make them really crispy. But that's up to you! Both ways work amazing.
Calories per serving (2 quesadillas): 257 | Carbs: 18g | Protein: 20g | Fat: 11g
2
Savory breakfast bowl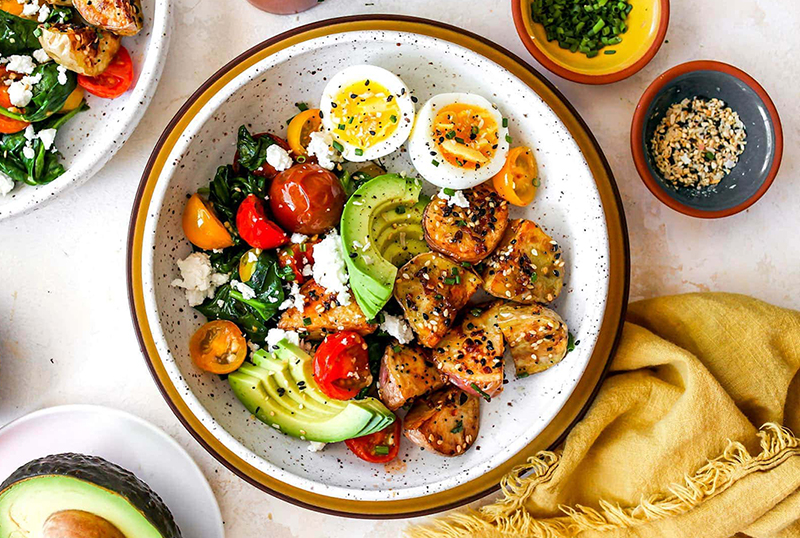 This amazing savory bowl is perfect for breakfast because it contains everything you need to feel nourished – protein from eggs, carbs from potatoes and healthy fats from avocado. It also includes vegetables and seeds which you can easily substitute depending on what you have at home at the moment.
Calories per serving: 272 | Carbs: 17g | Protein: 10g | Fat: 15g
3
Low-calorie breakfast waffles
That's another weight loss breakfast recipes that you are going to love! Many people like waffles but usually they are extremely high in carbs and sugar. But this recipe is different! You will use plain oats, egg whites and greek yogurt to make them light and guild-free. Plus, add your favorite low-sugar sweetener like stevia or monk fruit to make the waffles sweet and delicious. They can be served with fresh blueberries and yogurt or choose any other healthy option that you like!
Calories per 3 waffles: 270 | Carbs: 33g | Protein: 27g | Fat: 3g
4
Tomato & Avocado Sandwich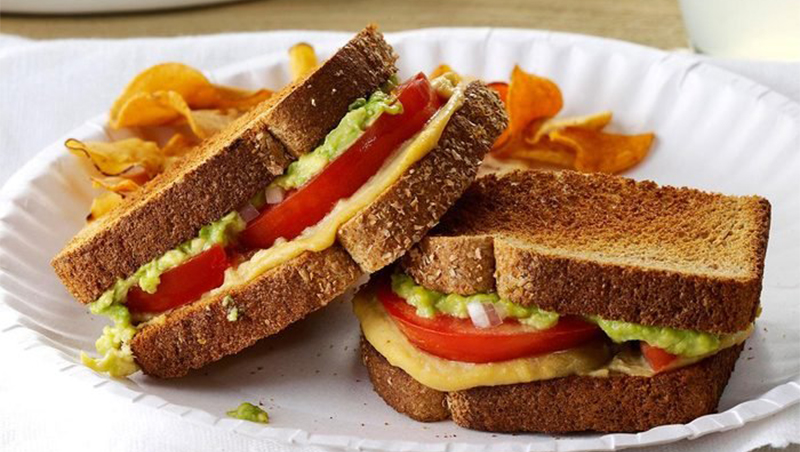 Sandwich is an all-time favorite meal for breakfast or lunch! It's simple, easy to make and convenient because you can take it with you when you don't have time to eat at home. This sandwich is simple and fresh yet delicious and low-calorie. You can reduce the amount of carbs by choosing low-carb bread.
Calories per serving: 278 | Carbs: 35g | Protein: 25g | Fat: 20g
5
Tofu "Egg" Salad sandwich
This recipe is vegan-friendly because instead of traditional eggs it contains tofu. Tofu has a similar texture as eggs and very high in protein. Choose reduced-fat mayonnaise (or light sour cream) to make this recipe perfect for weight loss breakfast!
Calories per serving: 266 | Carbs: 31g | Protein: 14g | Fat: 9g
6
Veggie wraps
Another recipe that will make you feel satisfied for a long time because it contains so many amazing ingredients like brown rice, corn, beans and vegetables. If you substitute regular sour cream for vegan mayo/yogurt, this will be an amazing vegan option for weight loss breakfast! Also, I would recommend to use low-carb tortillas to reduce the amount of carbs in this recipe.
Calories per serving: 295 | Carbs: 53g | Protein: 11g | Fat: 4g
7
Chocolate crepes
Great weight loss breakfast recipe for those who have sweet tooth. These amazing chocolate crepes are delicious and easy to make, and the whole batch contains 265 calories only! Enjoy these with your favorite sugar-free syrup or protein spread.
Calories per serving: 265 | Carbs: 42.2g | Protein: 17.7g | Fat: 2.1g
8
Spicy Masala omelette
Enjoy this delicious omelette with a kick of flavourful spices like cumin, turmeric and garam masala. It also contains cherry tomatoes, spring onion and spinach – a perfect meal for nourishing your body!
Calories per serving: 236 | Carbs: 3g | Protein: 17g | Fat: 14g
---
Things you need for weight loss breakfasts:
---
I hope you will like these weight loss breakfast recipes under 300 calories! If you enjoyed this collection, please share this post on social media using the links below.
xo,
Jane