In this post, I will share with you some anti-inflammatory recipes that I really like. Most of the time I try to focus on anti-inflammatory meals to keep my PCOS under control. It's a fact that women with PCOS have a constant low-grade inflammation in their bodies. And if they address this root cause of PCOS, they more likely to cure other unpleasant symptoms.
If you suffer from joint pain, constant fatigue, frequent infections, skin break-out, these may be the signs of chronic inflammation. In this case, the following meals will be beneficial for you as well.
Anti-inflammatory recipes are based on foods that are high in natural antioxidants and polyphenols—protective compounds found in plants. These elements fight inflammation and reduce the risk of illness. If you want to check the main ingredients, you can find a handy printable in my article "18 best anti-inflammatory foods".

Basically, these recipes include healthy and delicious products like avocado, tomato, leafy greens, mushrooms, seeds and other amazing ingredients that fight inflammation. Using the recipes below you can create a meal plan for the whole week. This will definitely boost your immunity, improve digestion and overall health. So let's get started!
Turmeric & Lentil Anti-Inflammatory Soup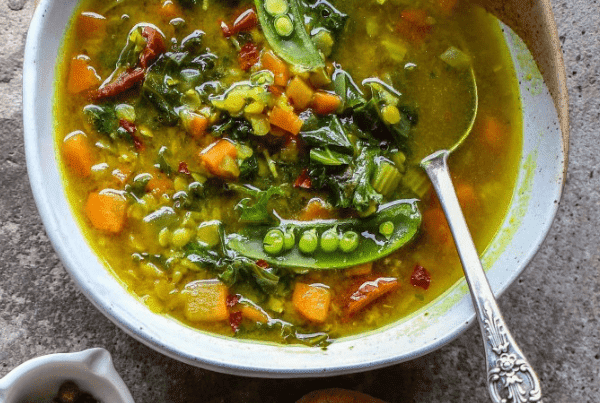 Turmeric is one of the first things you should start consuming if you have inflammation. It has antioxidant and anti-bacterial properties. Some people even take turmeric supplements as they can be very effective. But in this anti-inflammatory recipe, you'll be using curcumin powder.

Ginger, red pepper, tomato and coconut oil are also very beneficial for you. So this warming soup is a great addition to your everyday meals. It's especially awesome during cold winter days.
Broccolini with Mushrooms
This simple yet delicious meal has anti-inflammatory properties as it contains mushrooms and chili flakes. If you don't have broccolini available, you can always opt for regular broccoli or asparagus. All these ingredients are super nourishing and good for your body.
Avocado Tomato Salad
This salad is my go-to when I don't have time to cook anything complicated. It's extremely simple and easy to make. But at the same time, it's full of healthy fats and is really delicious.
Both avocado and tomatoes have anti-inflammatory properties so you should definitely add them to your meals. As for this salad, when I need to make it extra nourishing, I just add 2 boiled eggs – and OMG! It tastes and feels amazing, I highly recommend!
Vegetable Pizza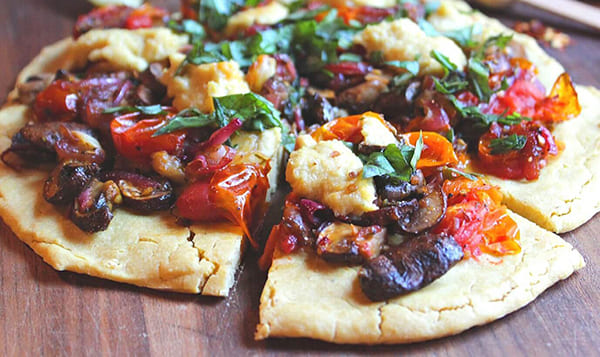 When you hear the word "pizza", you probably don't think about anything healthy. But this anti-inflammatory recipe is a totally different story! Regular pizza is not good for you, because both wheat flour and cheese cause inflammation. In this case, you have a vegan pizza with a bean flour – absolutely healthy and nourishing!

If you can't find a bean flour, choose chickpea or lentil flour. They work extremely well. You can be also very creative with vegetables you put on top – any natural ingredients will suit. The best options though are tomatoes, bell peppers, mushrooms, greens and olive oil.
Wraps with quinoa and veggies
These alkaline wraps are just amazing! You don't need to use any flour tortillas, but instead, you opt for leafy greens like collard or green cabbage. Such a great way to add more leafy greens to your diet. I believe we all struggle with this – or is it just me?!

What's great about this anti-inflammatory recipe is that you can use any ingredients for your filling. I recommend you to opt for any unprocessed foods like vegetables, nuts, homemade sauces, tempeh, beans etc.

Wraps are extremely easy to make and very convenient to take with you for work/school/picnic.
Strawberry spirulina smoothie
I personally love a good old green smoothie. To me, it's one of the easiest ways to consume things that I normally can't eat in such amount – like leafy greens, berries or spirulina.

Spirulina is very powerful, but the taste is too weird. That's why smoothie is the best way to consume it because you can always add other ingredients that will mask the taste of spirulina. In this anti-inflammatory recipe, you are going to use banana, strawberries and other yum foods to make a trick.

If you try spirulina for the first time, I would recommend starting with a really small amount – like ½ teaspoon. When you get used to the taste, you can add more of this amazing superfood.
Blueberry breakfast parfait
Omg, just look at this dessert/breakfast! Just by the picture, you can tell that it's vibrant and full of amazing nutrients for your body. Chia seeds contain healthy fatty acids, berries are full of antioxidants and almond butter provide enough protein to keep you satisfied for many hours!

I would recommend you to avoid adding any sugar to this dessert. Choose stevia or monk fruit to make the recipe even more anti-inflammatory.

The recipe calls for dairy-free yogurt which is an amazing option. I prefer coconut or almond yogurt, but you can use any available. Greek yogurt can be also good if it is natural. Yogurt and kefir are amazing foods to keep your gut healthy and to improve digestion.
Chickpea and sweet potato hash
This comfort meals can be used both for breakfast and dinner. It's so delicious and warm, what can be better? Filling sweet potato, protein-packed chickpeas and yummy bell peppers are all amazing ingredients to feel full and satisfied. You can also add a half of avocado & some cherry tomatoes to make a truly anti-inflammatory meal.
---
If you want your meals to stay fresh longer, you should use eco-friendly glass containers like these ones:
---
I hope you will like these anti-inflammatory recipes and give them a try. They all are really simple and easy to make. Because we all know that to start eating healthy you need to keep things simple – avoid complicated instructions, exotic ingredients, or recipes that take too much time. Otherwise, it will be difficult for you to maintain this healthy eating habit for good.

Again, make sure you've checked the post with "Anti-inflammatory foods" and print out the list to remember the products you want to eat to fight inflammation.
If you like this post, please share it using the social media links below.
xo,
Jane