In this post, I would like to share with you the best anti-inflammatory foods that can help to improve your health and immune system as well as promote a healthy weight loss.
I have been searching for a complete anti-inflammatory foods list to have an idea on what to eat to reduce my PCOS symptoms but I couldn't find anything really comprehensive and helpful. So I've decided to make a research and create a list with all the foods you may need to fight inflammation in your body.
I've also included a printable sheet with all the mentioned products. Check it out in the end of this post.
Let's get into the topic of best anti-inflammatory foods!
Why constant inflammation is bad
Inflammation plays a big role in our health as it defenses against toxins, infections, and injuries.
But even though the inflammatory response is a very important and helpful function of our body, sometimes it may get out of control. In this case, inflammation persists even if you don't have any illness your body need to fight to.

When the inflammation goes wrong or lasts too long it becomes a serious problem. The danger of chronic inflammation is that it triggers major diseases, including cancer, arthritis, heart disease, diabetes, Alzheimer's disease, depression and more.
The main symptoms of chronic inflammation:
Body aches and pain (especially in the joints)
Constant fatigue, tiredness, and low energy
Gastroenterological issues, poor digestion
Frequent infections and colds
Skin rashes (like eczema or psoriasis)
If you find your symptoms in this list make sure you do blood tests to see if there is inflammation in the body.
What are anti-inflammatory foods?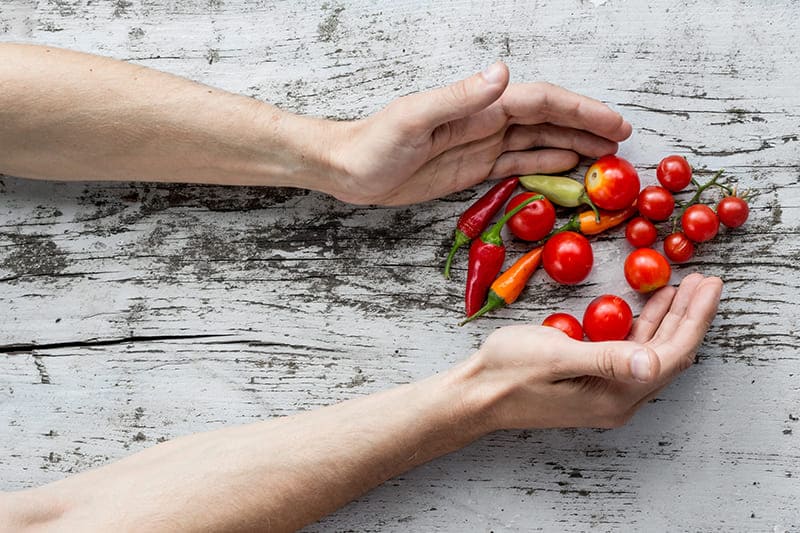 Note: This post may contain affiliate links. I may receive a small commission at no extra cost to you if you make a purchase through my affiliate link. I would appreciate that as it really supports my blog. Read my full disclosure policy here.
A lot of researches have shown that components of some foods or beverages may have anti-inflammatory effects. Most of the time such foods are high in natural antioxidants and polyphenols—protective compounds found in plants.
These products fight inflammation and reduce risk of illness. It's a good idea to include at least one of these products in your everyday meals.
Inflammatory foods to avoid
Before you start eating best anti-inflammatory foods from this post I would like to touch upon the foods you need to avoid. Because in every situation it's better to prevent illness than to cure it.

To reduce levels of inflammation, aim for an overall healthy diet. In addition to lowering inflammation, a more natural, less processed diet can have noticeable effects on your physical and emotional health.

Food that causes inflammation and makes your symptoms worse is mostly highly-processed. For example, fries and other dip-fried meals, pastries, cakes, chips. Other foods you want to avoid are red meat, soda, margarine, frostings. They all don't benefit your health at all.
Sugar, dairy and simple carbohydrates are also known to cause inflammation so it's better to avoid them as much as possible.
Best anti-inflammatory foods
Tomatoes
These veggies are rich in vitamin C and lycopene, an antioxidant that has anti-inflammatory properties. To get the most benefits you can drink fresh tomato juice or eat tomatoes together with virgin olive oil as it enhances the anti-inflammatory effect.
Extra virgin olive oil
It's rich in monounsaturated fats and proved to have anti-inflammatory properties. But be sure you use unrefined extra virgin oil to get all the benefits.
Avocado
Contains carotenoids and tocopherols that help to prevent cancer. This awesome fruit is a must for everyone who wants to eat healthy.
Green leafy vegetables
Such as spinach, kale, and collards. They are full of vitamins and minerals and contains dietary fiber. Eating lots of greens every day helps to detox body, to improve gut health and nourish your body with the best nutrients.
Spirulina and chlorella
They both reduce inflammation, protect against oxidative stress, and even lower cholesterol. Spirulina also contains vitamin B12 that is important for overall health. Chlorella supports the immune system and liver health.
Nuts and seeds
Like almonds and walnuts. Studies have also associated nuts with reduced markers of inflammation and a lower risk of cardiovascular disease and diabetes.
Fatty fish
like salmon, mackerel, tuna, and sardines. They contain omega-3 fatty acids EPA and DHA which have anti-inflammatory effects. If you are vegan, you can opt for Omega-3 supplements made from algae.
Broccoli
(and other cruciferous vegetables like cauliflower, brussels sprouts etc). Researches have shown that these vegetables not only fight inflammation but also prevent cancer. Broccoli contains an antioxidant called sulforaphane that has anti-inflammatory properties.
Cacao beans
They are full of minerals and antioxidants (has 20 times more antioxidant power than blueberries) that reduce inflammation. You can eat raw cacao beans, use high-quality cacao powder and cocoa butter. But you may also opt for dark chocolate that contains at least 70% cacao (the more the better) as a healthy snack that can also reduce inflammation.
Berries (like strawberries, blueberries, cherries and other). If you can find Sea buckthorn berry you should definitely add it to your diet. It's amazingly delicious in teas and smoothies, especially during winter months. This berry contains lots of vitamins and antioxidants.
Acai berry is a low-sugar fruit that is also extremely high in antioxidants.
In general, all berries are good for you. They contain anthocyanins and catechins that fight inflammation and support the immune system.
Mushrooms
They also contain phenols and other antioxidants that provide anti-inflammatory protection. But these amazing nutrients can be lost while cooking. So it's recommended to eat them slightly cooked or take it in supplements.
Grapes
A grape extract can help to reduce inflammation as it contains anthocyanins and resveratrol. Grapes are also rich in vitamin C and vitamin K.
Peppers
Bell peppers and chili peppers are rich in vitamin C and antioxidants. That's why they may have strong anti-inflammatory properties.
Spices
Turmeric (powerful anti-inflammatory nutrient curcumin. One gram of curcumin daily combined with piperine from black pepper caused a significant decrease in inflammation. But due to poor absorption of curcumin taking supplements containing isolated curcumin is much more effective).
Black pepper (piperine in black pepper also has anti-inflammatory properties)
Chili (contains capsaicin that is proved to reduce inflammation)
Cinnamon (has antioxidant, anticancer and antidiabetic properties).
Cloves help to relieve pain and inflammation (especially in the oral cavity)
Ginger (Ginger contains compounds known as gingerol and shogaol, which play a role in the inflammatory process. It also help prevent or treat nausea)
Rosemary fights against inflammation and oxidation.
Tart cherry juice
Tart cherry is one of the best anti-inflammatory foods. It is rich in nutrients and aims to improve your sleep and strengthen the immune system. Besides, it's so delicious!
Green tea
Green tea is an amazing drink you can consume every day to improve your health. It contains antioxidants catechins that support the immune system and fights inflammation. You can read my post "Green tea for weight loss for more information about this drink.
Herbal teas.
Herbal teas are also very beneficial for your health. In order to reduce inflammation you can drink the following teas:
Rooibos is a caffeine-free herbal tea that contains flavonoids (aspalathin and nothofagin) which help to decrease inflammation.
Rose hip is another tea you want to add to your diet. Rose berries are full of vitamins and enzymes and can significantly support the immune system during the winter months.
Chamomile tea has anti-inflammatory properties due to its terpenoids and flavonoids. I've also found it's really beneficial for digestive problems.
White willow bark helps to relieve pain and reduce inflammation. This tea is very powerful so you may want to mix it with other herbs.
Dandelion tea helps to remove toxins from your body and fights inflammation. It's also very good for digestion and gut health.
These are affiliate links from iHerb. You can use these links to get a 5% discount on your order. Of course, you can buy all these teas from your local supermarket or pharmacy. I just like to do it in a bunch in order to save time. If you are like me and love iHerb, I hope you find these products helpful.
Probiotics
Probiotics are one of the best anti-inflammatory foods because good bacteria helps to improve digestion, support the immune system, and fight illness. The sources of probiotics are kefir, yogurt, sauerkraut, kimchi, kombucha, miso.
---
You can check my post "8 Anti-Inflammatory Recipes" with amazing meal ideas that include the foods from this list.
Anti-inflammatory foods list
You can download and print this anti-inflammatory foods list to have a reminder of what to eat to reduce inflammation. It's great to hang it on a fridge door and pin somewhere in a kitchen.
---
Feel free to ask any questions you have in the comments below. And please share this post if you find it helpful. It will allow other people to see it and get some value from it as well.

Jane x