It took me a while, but I've finally created this post with the best probiotics for PCOS. It will be a great addition to my previous article "PCOS and digestive issues" where I was talking about gut health and digestive problems. You should definitely check it out if you are dealing with bloating and poor digestion
There are many ways you can improve your gut health – eating a diet full of anti-inflammatory foods, avoiding food allergens, taking natural supplements or consuming probiotics
And I believe it's very beneficial to take probiotic supplements from time to time, especially during traveling or stressful times. It may be also very convenient for people who are really busy or can't find proper probiotic foods.

NOTE: It's recommended to do stool testing to figure out which bacteria you lack. And only after that, you can search for a supplement that contains enough amount of the bacteria you need.
Be also aware of short term side effects when you first start taking probiotics. They may include bloating and gas, as well as changes in your stool patterns. It all indicates that the product is working. But if the symptoms don't go with time, then you should stop taking probiotics and consult a doctor.
–
What are probiotics?
There are trillions of bacteria (gut microbiota) that live in your large intestine. They are involved in immune health, digestion and even hormonal balance. So it's important to have a proper balance of good and bad bacteria to keep your body healthy.

It becomes even more crucial for women with PCOS who have high levels of inflammation in their gut. Probiotics may help with reducing the number of unfriendly bacteria and strengthening the lining of the intestines.

I just want to note that natural probiotic foods are the best choice. So when you can, try to opt for yogurt, kefir (a yogurt-like beverage), kombucha (fermented tea), sauerkraut (refrigerated, not shelf-stable), kimchi (made from fermented cabbage) and tempeh and miso (made from fermented soybeans).

But if you need additional support, probiotic supplements can be very handy.
–
How to choose a probiotic for PCOS?
If you want to find the best probiotic for PCOS, you need to make sure that it's a high-quality potent product with active bacteria inside. There are some things you should pay attention to:
Well-known trusted brands. I would recommend you to avoid buying probiotic brands that you never heard about. They may be new on the market and haven't been studied well. It's common when a product has lower counts of bacteria than was stated on the label. And in some cases, they had other bacteria besides the ones that were supposed to be in them. You can check the brand's website to find evidence of research and request certificates.
Price. Don't buy cheap brands. These supplements typically aren't of good quality. The price may vary but usually a good probiotic costs anywhere from $25 to $50-$60.
CFU. Choose probiotics with a high amount of bacteria. Probiotics are typically measured in colony-forming units (CFU). The more billions they have – the better, as higher doses have been found to produce the best results. It's also important to remember that the number of live bacteria in a probiotic supplement decays quickly if not suitably stored and transported.
Diversity of strains. Our microbiome has thousands of diverse strains so it's a good idea to choose probiotics with many different strains. But, again, gut bacteria tests can show whether you need to supplement with any special bacteria strains.
–
What bacteria do you need
Even though there are lots of different species, the most common groups of bacteria are Lactobacillus, Bifidobacterium, and Saccharomyces. They are studied really well and can be effective against bloating, inflammation and other IBS symptoms.
Lactobacillus strains, (such as L. acidophilus, L. plantarum, xi). Lactobacillus gasseri, Lactobacillus rhamnosus can be effective for weight loss. Lactobacillus GG, Lactobacillus crispatus, Lactobacillus gasseri are good for immune system. Lactobacillus plantarum has been shown to reduce inflammation.


Bifidobacterium strains, (such as B. infantis (Align), B. longum, B. bifidum). Bifidobacterium lactis helps to fight inflammation, so they are really good for PCOS. Bifidobacterium bifidum and Bifidobacterium longum can improve immunity and reduce inflammation.
These types of bacteria may be really important for women with PCOS as they help to create anti-inflammatory state in your body.
–
Probiotics brands for PCOS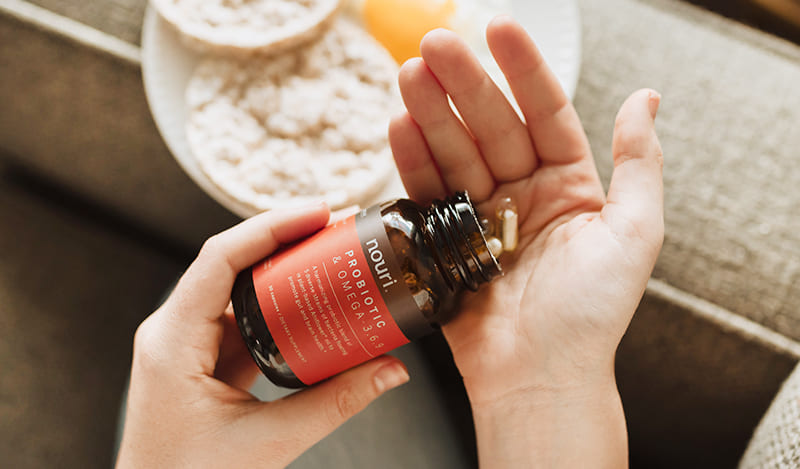 Note: This post may contain affiliate links. I may receive a small commission at no extra cost to you if you make a purchase through my affiliate link. I would appreciate that as it really supports my blog. Read my full disclosure policy here.
There are many probiotic brands that can be good for PCOS, and I can only recommend the ones I tried myself or heard many good testimonials from other people.

Microbiome Plus Advanced Probiotics improve digestive health, boost immune and help with weight loss. They also contain digestive enzymes to aid in the absorption of fats, carbohydrates and proteins. This part is really important as the better you absorb nutrients, the easier it will be to grow good bacteria in your gut. Microbiome Plus can help to reduce bloating, heartburns, and acid reflux
Garden-Life-Formulated-Probiotics-Womens Garden of Life is a really good vegan brand that is popular and trusted. What I love about this particular probiotic is that it was tailored specifically for female health and contains L. reuteri and L. fermentum for vaginal balance.
Dr-David-Williams-Probiotic-Supplement Dr.Williams probiotic supplement contains 7 extremely hardy strains, including Lactobacillus plantarum and Lactobacillus rhamnosus which are good for PCOS. This brand also has a patented technology to deliver bacteria alive.
Mutaflor. This supplement is very powerful and well-researched. Study showed that it's effective in curing IBS and chronic inflammatory bowel diseases. It contains Escherichia coli strains. I believe you can buy this supplement only from local pharmacies and medical dispensaries. At the moment, it's available in Australia, Canada, Germany and Finland.
Seed is a very unique product as it is synbiotic (a combination of probiotics and prebiotics). As you can see from their website, this supplement is very well-researched. It supports healthy gut immune function, helps improve stool hydration and ease of evacuation, promotes healthy skin and heart health.
Probiogen is another supplement you want to try. Due to smart spore technology, it keeps the bacteria alive and active. I've tried this one a couple of times and it seems to work.
Lifted Naturals Probiotic. I believe this one may work pretty well for women with PCOS. It's offering digestive, immune, and mental support and contains Bifidobacterium longum, Lactobacillus plantarum and Lactobacillus rhamnosus that all reduce inflammation
Physician's Choice Probiotic. This one is really popular and has thousands of positive reviews. It contains 10 strains and 60 Billion CFU which is a lot.
I've tried some probiotics from iHerb, but frankly speaking, I didn't see any effect. I still believe that local, trusted brands are the best choice.
---
I hope this article will help you to find the best probiotic for PCOS and releave your symptoms. If you find it useful, please share it with friends using the social media links below.
xo,
Jane