There are many drinks you can consume not only for pleasure but also for improving your health. One of them is herbal tea. Instead of drinking coffee (which is inflammatory) or black tea, try to get used to herbal teas that can be really flavourful and delicious as well.
I've created a collection of the best teas for PCOS that help to balance hormones, regulate sugar levels or just calm you down. But make sure you've learned all the side effects before you start drinking them on a regular basis. Even though herbs are natural, they may affect your body differently depending on what conditions you have.
Also, keep in mind that it takes a long time to see the effects of teas and notice any improvements. So be patient.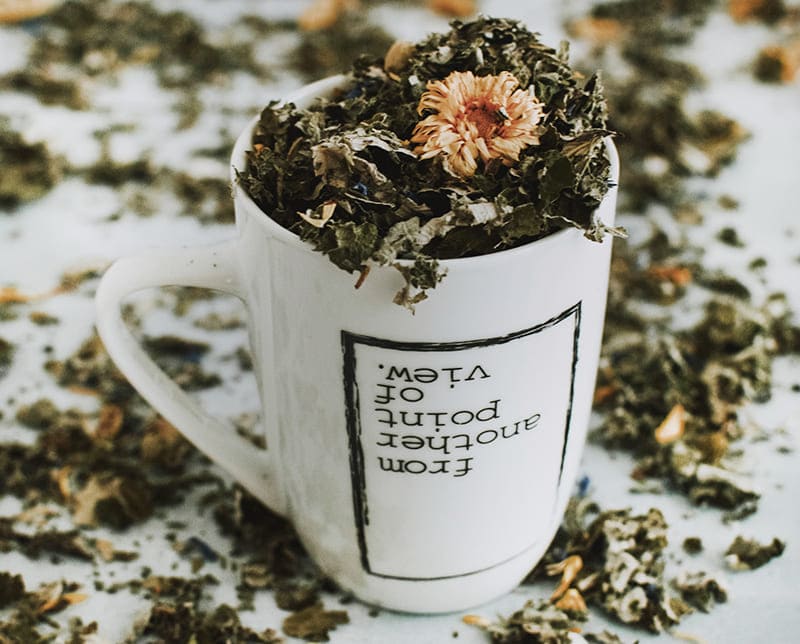 Spearmint tea
Spearmint tea is great for women suffering from PCOS because it helps to lower androgens, such as testosterone, in the body. This is great news because PCOS sufferers usually have high levels of testosterone. Elevated levels of the androgen can lead to acne, hirsutism, and menstrual cycle irregularities. As a result, this tea can help to reduce hormonal acne and symptoms of PMS. In addition, it helps to increase FSH and LH which keep menstrual cycles regular. Finally, this drink is great to have in the morning or in the afternoon when you start "feeling the slump."
Rooibos tea
Rooibos tea is great for regulating sex hormones, especially estrogen. It helps to boost this hormone which is important for those who have low levels or imbalances. But make sure that you are not estrogen dominant. In this case, it's better to consult with your doctor first.
Rooibos also helps to balance blood sugar levels and improves insulin sensitivity. That's why this tea is recommended for people suffering from diabetes or PCOS.
Besides that, rooibos tea has anti-inflammatory properties which make this tea a good option for women with PCOS.
Green tea
In addition to rich levels of metabolism-boosting caffeine, green tea is full of antioxidants including epigallocatechin gallate (EGCG) which boosts metabolism. EGCG can help to fight weight gain in menopausal women. Research shows that consuming green tea increases insulin sensitivity and lowers insulin levels in both healthy people and in those who suffer from insulin-resistant conditions such as obesity and diabetes. Additionally, a 2009 study revealed that it can be an effective way to strengthen bones and decrease the risk of bone fractures, especially in women experiencing menopause.
You can read more about the benefits of green tea for weight loss and health in this post.
Due to its many benefits and low risk, you may want to consider drinking one to three cups of green tea per day. If you are worried about having trouble sleeping at night, a decaffeinated version may be a better option.
Matcha tea
This tea contains plenty of antioxidants including vitamin C, catechins, and most importantly EGCG. EGCG is a powerful antioxidant that can help fight cancer. Believe it or not, matcha has ten times more antioxidants than green tea, six times more antioxidants than goji berries, and seventeen times more antioxidants than blueberries. As a result of the high antioxidant count in matcha, it also helps to detox the body and support the liver, which is an important organ for hormone regulation (particularly for estrogen).
When it comes to hormone regulation, matcha tea helps lower estrogen levels. As high estrogen levels are associated with breast cancer, lowering levels of the hormone is one way matcha can help drinkers fight cancer.
Matcha is perfect for the morning as it is super energizing!
Liquorice
Liquorice is proved to support the body's adrenal glands, also known as the stress gland. For this reason, incorporating it into the diet is important for women suffering from PCOS because the adrenal glands are responsible for the production of the male hormone DHEA-S. In stressful situations, the adrenal glands will over-secrete this hormone, resulting in a flare up of PCOS symptoms. Drinking liquorice root tea also reduces testosterone levels and balances estrogen levels. Besides being an extremely delicious tasting tea, I find it really helps to reduce sugar cravings!
Lady's Mantle
Lady's Mantle (or Alchemilla vulgaris) is great for those who have irregular, painful, or heavy periods because it promotes hormone balance and regulation. It is great for improving skin issues such as acne and dermatitis, as well as increasing hair growth. Furthermore, lady's mantle reduces symptoms related to the menstrual cycle, such as cramps, moodiness, cravings, and hot flashes.
Cinnamon tea
I absolutely love cinnamon bark tea! It's such a flavorful and energizing drink! It is known for its ability to balance blood sugar levels, as well as its ability to support insulin resistance and boost the metabolism, which can lead to weight loss. As you have already learned, balancing insulin levels is the key to managing PCOS. A recent study has indicated that cinnamon actually helps to improve menstrual cyclicity. This study also indicated that it may help to increase pregnancy rates in those with PCOS… which is pretty amazing!
Ginger root tea
Ginger has been used to help treat PCOS before scientists and doctors ever knew what PCOS was! Ginger is well known for its ability to reduce nausea and the easing of any pain associated with the menstrual cycle. It is also believed to have anti-inflammatory properties and can help lower blood sugar levels, which is essential to regulating insulin levels and the regulation of hormones for PCOS.
Raspberry leaf
Yes, fruity tea is delicious—but sometimes it even comes with an added health boost. Drinking this powerful herb will help to clear the congestion in the ovaries and uterus. Keep in mind that when suffering from PCOS, you're trying to break up any stagnation in that area, something raspberry leaf tea will help with.
It is also a well-known fertility herb that can be a great tool when trying to get pregnant, but be careful! Raspberry leaf tea can also send women into premature labor, so once pregnant, avoid drinking it until you are ready to meet your new baby!
Vitex
Vitex agnus-castus, also called Vitex Berry or Chaste Tree Berry, has been used for ages to support gynecological health, particularly for the changing seasons and cycles of life. It is a powerful, but slow-acting tonic that can be taken for 3 to 36 months.
Vitex is one of my favorite herbs for women due to the positive impact it can have on quality of life. It's a powerful tool for long-term regulation and production of hormones and has also been traditionally used for the treatment of premenstrual syndrome (PMS).The herb also increases progesterone, which can assist in maintaining a healthy balance between estrogen and progesterone levels throughout the transition from perimenopause to menopause.
Additionally, vitex can help to reduce symptoms of PMS, such as cramps and constipation, as well as symptoms of menopause such as hot flashes and moodiness. Clinical studies have shown it to be a successful remedy for endometriosis and uterine fibroids, and many women have found it helpful in rebalancing their cycles after coming off of birth control pills. However, do not take vitex if pregnant or if you are taking birth control pills, as it may make the pill less effective.
Shatavari
Shatavari was traditionally used as a female reproductive system tonic because it supports fertility, the menstrual cycle, and hormonal changes.
Shatavari is also full of various vitamins and minerals including vitamins A, C, and E as well as calcium and iron. These vitamins and minerals act as antioxidants that protect the female reproductive system.
It also has anti-diabetic properties that help to improve insulin sensitivity.
Finally, there is compelling evidence to show Shatavari is an adaptogenic powerhouse. Studies show its immune-supporting and hormone-balancing impact on the body, which are two qualities of a great adaptogen.
Dandelion root
The liver plays an important role in regulating hormones, especially estrogen. The liver metabolizes estrogen, but it also helps eliminate it. Remember that it does not matter whether the hormone is from natural sources or from artificial sources such as hormone-replacement therapy, plastics, or plants. To keep the metabolism and elimination working well, we want to nourish the liver. While many people see dandelion root as nothing more than a weed, it is also a very powerful liver tonic. For maximum benefits, it is suggested that you drink it regularly as a deco film or as a tincture.
Red clover
Red clover is full of proteins and minerals including calcium and magnesium, as well as several macro- and trace minerals, vitamins, and isoflavones. This makes it highly effective for regulating the hormones. Traditionally, red clover was used to prevent cramps, irregular periods, symptoms of menopause, and unexplained infertility. It also contains phytoestrogens, which protect receptor sites from xenoestrogens, which are foreign estrogen-like substances that can confuse the endocrine system and lead to hormone imbalances. However, some sources suggest that red clover should not be taken by pregnant or nursing women, as its effects on fetuses are not yet known.
In an effort to manage some unpleasant menopausal symptoms like hot flashes, this herb is useful to help balance estrogen levels. It is also useful in regulating menstrual cycles
Sage
Sage tea may be useful in reducing symptoms associated with menopause, such as hot flashes, night sweats, and mood swings. It can also help to regulate hormones and improve overall well-being during this time.
Sage tea has been shown to have antioxidant and anti-inflammatory properties, which can help to improve skin health and reduce the appearance of wrinkles and other signs of aging. It can also be used topically to treat skin conditions such as acne and eczema.
Nettle leaf tea
One of the most well-known benefits of stinging nettle leaf is its ability to reduce inflammation. This makes it a popular remedy for conditions such as arthritis, allergies, and eczema. The anti-inflammatory properties of stinging nettle leaf can help to alleviate symptoms and improve overall health.
Stinging nettle leaf is also rich in vitamins and minerals, including vitamin A, vitamin C, calcium, and iron. These nutrients can help to improve bone health, boost the immune system, and promote healthy skin and hair.
---
What's your favorite tea from this list? Comment down below! And please share this article with friends using social media links ->
xo,
Jane