Meal prepping is one of the best ways to manage your life. It helps to free up time, to maintain a healthy lifestyle, to lose weight and to save money on food. In this post I will share with you some of my favorite vegan meal prep ideas.
I personally get bored of too simple (and tasteless) meal prep ideas where you have just veggies with tofu and a salad. I saw lots of very beautiful pictures on Pinterest where food are arranged so beautifully on a plate, and the lunch box looks like an absolute masterpiece. But I clearly understand that the taste of this dish won't be as delicious as it looks. Because not everybody can enjoy plain fresh veggies. Or is it just me?!
Don't get me wrong. I don't mind if people can enjoy simple food. I even envy these people. Because it makes life way easier and healthier. But it's just not me. I need something filling, rich in flavor and taste, something that has a shape (like sushi, quesadillas ect) to be satisfied not only physically, but also mentally. And I created these vegan meal prep ideas especially for such foodies like me. I hope you enjoy it!
Vegan meal prep idea #1. Curry with rice and pancakes for dessert
🔹 Chickpea curry
🔹 Brown Rice
🔹 Salad
⠀
🔸 Protein Pancakes
🔸 Low-calorie jam with stevia
🔸 Strawberries
⠀
📍 Chickpea curry recipe:
⠀- 0.5 onion
⠀- 3 cloves of garlic
⠀- 1 tbsp grated ginger
⠀- 10 tbsp coconut milk (or cream)
⠀- Indian spices + turmeric + salt, pepper
⠀- 1 tomato
⠀- Fresh greens
⠀- 1 tsp soy sauce
Fry onion, garlic and ginger on a pan. Then add coconut cream and spices. In the end add a tomato, greens and soy sauce. Saute for additional 3 minutes or so. Improvise to taste. Add chickpeas and mix it up well.
⠀
📍 Pancakes recipe:
⠀- 2 tbsp protein powder (I use Tropeaka salted caramel)
⠀- 1/2 cup brown rice flour
⠀- Cinnamon and stevia to taste
⠀- 1 tsp baking powder
⠀- 1/2 cup soy milk
⠀- 2 tbsp coconut oil
⠀
Mix all the dry ingredients first. Combine milk and coconut oil in a separate bowl. Add liquid mixture to dry ingredients. Fry on a non-stick pan until it's golden from both sides. Serve with yogurt and berries to make it extra healthy. Or choose your favourite syrup, butter and fruits.
This vegan meal prep idea is such a comfort food. When it's cold and gloomy outside I enjoy warm spicy meals. What's more – this chickpea and brown rice combo creates a complete vegan protein as it contains all the amino acids. So if you don't know what to cook for dinner opt for this simple meal.
As for the pancakes, they are a perfect dessert. Who doesn't love pancakes?! But we used to think that they are very unhealthy. However, you can make them nutritious and healthy at the same time! Just follow the recipe, skip the butter but add low-sugar (or stevia based) jam and fresh fruits/berries.
Vegan meal prep idea #2. Bean wraps and coconut-chocolate bars
🔹 Bean wraps
🔹 Cherry tomatoes
🔸 Chocolate&Coconut Bars
🔸 Apples and almonds
📍 For wraps:
Spread tortilla with hummus. Mash beans together with vegan yogurt, salt, pepper and spices. Add salad, cucumbers and avocado. Wrap it up and cut into small rolls.
📍 For bars:
-0.5 cup cacao powder
– 0.5 cup brown rice flour
– 2 tsp baking powder
– pinch of salt
– stevia
– cinnamon
– 2 cups of pumpkin puree
– 2 tbsp coconut oil
– 2 flax eggs
Combine everything together and bake for about 40 minutes. Then leave to cool down. Meanwhile, heat 3 tbsp coconut oil, add 3 tbsp coconut cream and add the plant-based milk one tablespoon at a time until you achieve the desired, spreadable consistency. Spread over the cake and leave in a fridge for 24 hours or more. This way the cake will become condensed and yummy.
The bars from these vegan meal prep idea were created for girls with PCOS as they are sugar-free and full of healthy fats. This way this dessert doesn't make any harm while satisfying your sweet tooth. I also like that these sweets can be stored in the fridge for a very long time. And in my opinion, they even become better with time.
Vegan meal prep idea #3. Sushi sandwich and apples with peanut butter
🔹 Vegan sushi sandwich (with fried tofu steak, avocado, cucumber, teriyaki sauce)
🔹 Salad of leafy greens and tomatoes
🔸 Mandarines, apples
🔸 Peanut butter
📍 Sushi sandwich recipe:
– 2 cups rice for sushi
– 2.5 cups water
– 1 sheet kombu algae (optional)
– nori sheets
– fillings (fried tofu, avocado, cucumber etc)
First of all, I cook rice as I would do it for regular sushi. I wash rice thoroughly, rinse and leave for about 30 minutes. After that, I add water, put kombu on top and keep on fire until it boils. After boiling, I put the lid on, make a fire on the minimum and cook for 12 minutes. Then switch it off and leave on the stove for 20 minutes to cool down a little bit.
Next, you want to pour some mirin to your rice, mix together and start making sushi. You need to make a patty, place it on a sheet of nori, then put your fillings, put another rice patty on top. Then fold it and cut in half.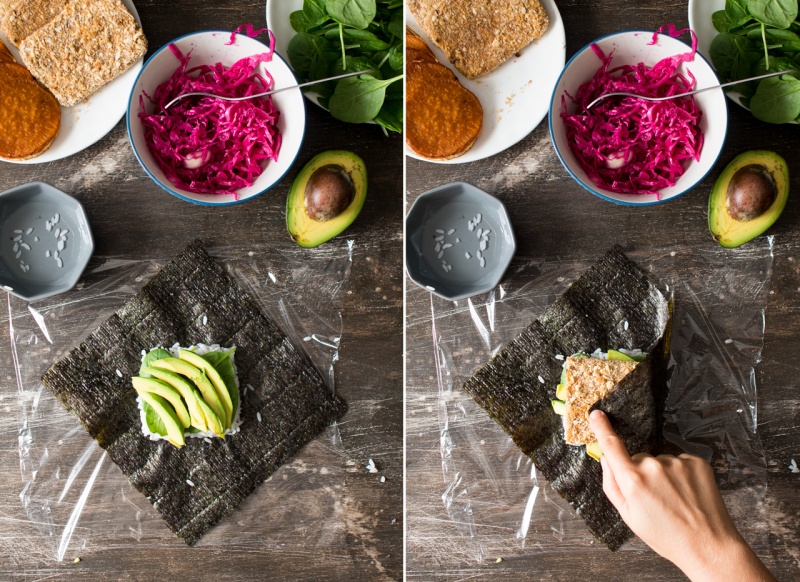 This is my favorite vegan meal prep idea because I really love sushi (and everything of japanese cuisine). But after went vegan it was extremely hard for me to find something fish-free. So the only option is to make sushi at home. That's why it becomes a habit of mine to meal prep sushi in advance to enjoy them during the week. Making it as sandwich is even more convenient if you plan to eat at work or on a go – you don't need chopsticks or even a fork, so easy!
Vegan meal prep idea #4. Tuna salad sandwich with fruits and nuts
🔹 "Tuna" salad sandwich
🔹 Fresh cucumbers and bell peppers
🔸 Fresh fruits
🔸 Dates and nuts
📍 Tuna salad recipe (for 2 big portions):
⠀- 1 can of white beans or chickpeas
⠀- 1 tbsp unsweetened yogurt or sour cream
⠀- 1 tsp spicy mustard
⠀- 1/3 medium onion (chopped)
⠀- salt, pepper, carry mix
⠀
Mash everything together with a fork and spread on a bread of your choice. Add tomato, salad or other veggies you like.
This vegan meal prep idea is ideal when you are running late. It takes literally 1 minute to make this lunchbox. Besides, I find that it's a very budget friendly meal – the cost of this big sandwich is no more than $1. Sometimes when my husband and I spend the whole day in the city we prefer to take such meal prep with us together with a thermos of tea. It saves tons of money and we know the quality of our food.
---
I hope you like these 4 vegan meal prep ideas. Please let me know your favorite in the comments. And feel free to request any article / meal prep post you want to see on my blog. I'll do my best to create the content that is helpful and valuable for you!
Yours, Jane (who loves sushi 😀 )